Description
Matrix 320 image based code reader has been designed to EMPOWER TRACEABILITY applications providing benefits for End Users and Machine Builders. Matrix 320 brilliantly solves traceability applications in Intralogistics, Distribution, 3PL, Retail logistics and the Shop Floor. Matrix 320 offers a COMPLETE SOLUTION and TOP PERFORMANCE to achieve higher productivity at the best price/performance ratio with its superior 2MP sensor (1920 × 1080 pixels with a 16:9 form factor), achieving an extra large Field of View (FOV) on horizontal axis that competes against 3MP readers. Matrix 320 has excellent reading performance on label and high resolution DPM with a powerful Smart configurable lighting allowing 3 color options able to solve extremely challenging traceability applications. To boost productivity in Intralogistics and Logistics segments, hands-free operations enjoy higher performance with Matrix 320 snappy reactivity and its outstanding Depth of Field (DOF). Matrix 320 provides the highest market application flexibility with a modular design, a reduced number of models complemented by a complete portfolio of lenses, lightings, filters, and accessories. Embedded electronic focus for the Liquid Lens models dramatically reduces installation time and allows easy reconfiguration improving production flexibility in line with Industry 4.0 requirements. Matrix 320 is very easy to install with its improved integrated aiming system, X-Press button HMI and DL.Code software powered by easy and intuitive autolearning/autosetup features.
Manufacturing
• Direct Part Marking Reading
• Component and Part Traceability
• Wip Traceability (Automatic)
• Print & Apply
• Secondary Packaging Traceability

Manufacturing, Transportation and Logistics, Retail
• Inbound, Pallet Picking (Fork Lift)
• Print & Apply verification (Re-labelling)
• Depalletizing, Part Traceability
• Order Fulfillment (Automatic, Manual)
• Palletizing (Automatic, Manual), Cage Preparation
• Pallet Traceability, Pallet Wrapping
• Retrieval for outbound (Forklift)

14 LED Illuminator Model
36 LED Illuminator Model
Sensor
Image resolution 2.0 Mpixel (1920 x 1080) 16:9 form factor – 1/3" CMOS global shutter
Frame Rate
60 frames/s
LIQUID LENS MODELS
Reading Range
6mm: Minimum: 50 – Maximum: 550 mm 9mm: Minimum: 35 – Maximum: 1000 mm 16mm: Minimum: 70 – Maximum: 1500 mm
Optical Models (Viewing Angles)
Liquid Lens 9 mm (34°), Liquid Lens 16 mm (20°)
Optical Focus Control
Electronic focus control
Illumination
Internal illuminators colors: Blue, Red, White lights (only for Liquid Lens 9 mm and16 mm)
C-MOUNT MODELS
Optical Models (Viewing Angles)
C-Mount Lens 4mm(68°), 6mm(48°), 8mm(37°), 12mm(25°), 16mm(19°), 25mm(12°), 35mm(9°)
Optical Focus Control
Manual focus adjustment
Illumination
Internal illuminators colors: Blue, White, IR, UV
Polarizing Filter
Available as front cover accessory
Code Quality Metrics
1D CQ Standard: ISO/IEC 15416 2D CQ Standard: ISO/IEC 16022/18004, ISO/IEC 29158 (AIM-DPM), ISO/IEC 15415
Power Supply
24 VDC ± 10%
Max Power Consumption
0.42 A, 10 W max
0.62 A, 15 W max.
Protection Class EN60529
IP65 and IP67
Operating Temperature
Liquid lens models: -0 to 45°C / 32 to 113 °F C-MOUNT models: -10 to 50°C / 14 to 122 °F
Storage Temperature
-20 to 70 °C / -4 to 158 °F
Case Material
Aluminium case and plastic protective window cover
Dimensions
H 108.7 x W 54 x L 55.5 mm / 4.3 x 2.1 x 2.2 in Connector at 0° H 88 x W 54 x L 75.6 mm / 4.3 x 2.1 x 2.2 in Connector at 90°
H 115.5 x W 126 x L 70.3 mm (4.6 x 4.9 x 2.8 in) Connector at 0° H 101 x W 126 x L 90.7 mm (4.6 x 4.9 x 2.8 in) Connector at 90°
Weight
Liquid lens 14 LED illuminator: 380 gr (13.4oz)
Liquid lens 36 LED illuminator: 650 gr (22.9oz)
Sulfur Gas Resistance
Available for all models according to ISO EN 60068-2-43
Sulfur Gas Resistance
Available for all models according to ISO EN 60068-2-43
ESD Safe
Available as front cover accessory
Not Available
YAG Laser Protection
Available as filter accessory (compatible with ESD cover)
Embedded Communication Interfaces
– Ethernet 10/100/1000 Mbit/s: TCP/IP, UDP, FTP, SFTP and Fieldbus PROFINET IO, Ethernet IP, Modbus TCP – Serial RS-232/RS-422FD up to 115.2 Kbit/s + Serial Aux RS-232 up to 115.2 Kbit/s – OPC UA
Reader Networking
Datalogic ID-NET™
Connectivity Modess
Pass Through, Master/Slave, Ethernet point to point
Digital Inputs
2 inputs opto-coupled and polarity insensitive Max. Voltage 30 VDC Max. Input Current 10 mA
Digital Outputs
3 Outputs: configurable NPN, PNP and PP short-circuit protected VOUT (ILOAD = 0 mA) max. 24 VDC VOUT (ILOAD = 100 mA) max. 3 VDC ILOAD max. 100mA Using CBX connection box the first 2 outputs are opto-coupled
Aiming System
Laser cross red projection aiming
User Interface
Configurable 360 degree multicolor visual feedback Green spot and Red spot LEDs X-PRESS™ Human Machine Interface Beeper, X-PRESS™ Push Button, 7 LEDs (Status, Communication , Trigger, Good Read, Ready, Power on, Network) Web Monitoring Interface
Device Programming
DL.CODE™ Windows-based software (programming via Ethernet or Serial Interface) with Javascript output formatter Serial Host Mode programming; X-PRESS™ Human Machine Interface
Warranty
2-Year Factory Warranty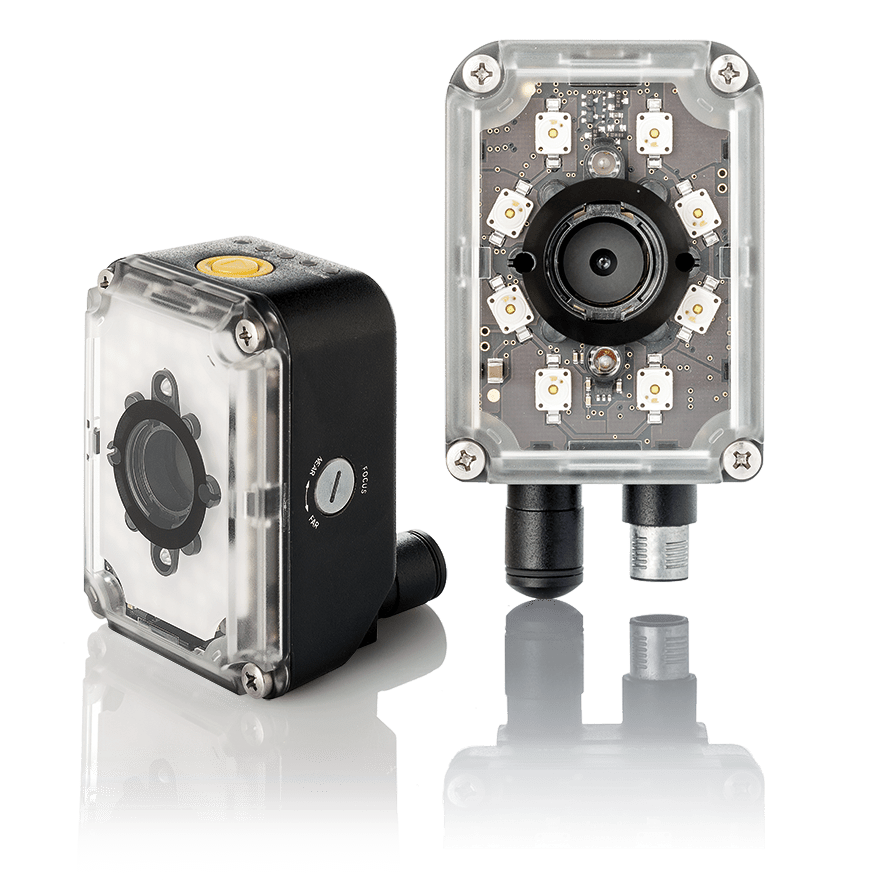 Let us know your requirements
Just send us your questions we will give
you the help you need.