Description
The P-Series is an ultra-compact cost effective smart camera offering advanced machine vision functionalities in a fully embedded stand-alone device.
The P-Series is available with gray-scale or color CMOS image sensors with two different resolutions: 640×480 pixels at over 120fps and 1280×1024 pixels at up to 60fps.
Lenses and illuminators are fully interchangeable and can be mounted and replaced by the user. Five focal lengths and nine lighting options result in 90 different combinations delivering outstanding installation flexibility while offering superior image acquisition capabilities.
With compact dimensions and the rotating connectors, the P-Series can be installed even in extremely narrow spaces. The IP67 rated metal housing guarantees maximum protection in the most harsh factory environments containing dust, water and oil.
The P-Series is powered by the IMPACT LITE software package. With more than 25 inspection tools, IMPACT LITE revolutionizes device programming by making the inspection configuration quick and intuitive. Controls are dragged and dropped into the inspection tree for easy and simple quality control deployment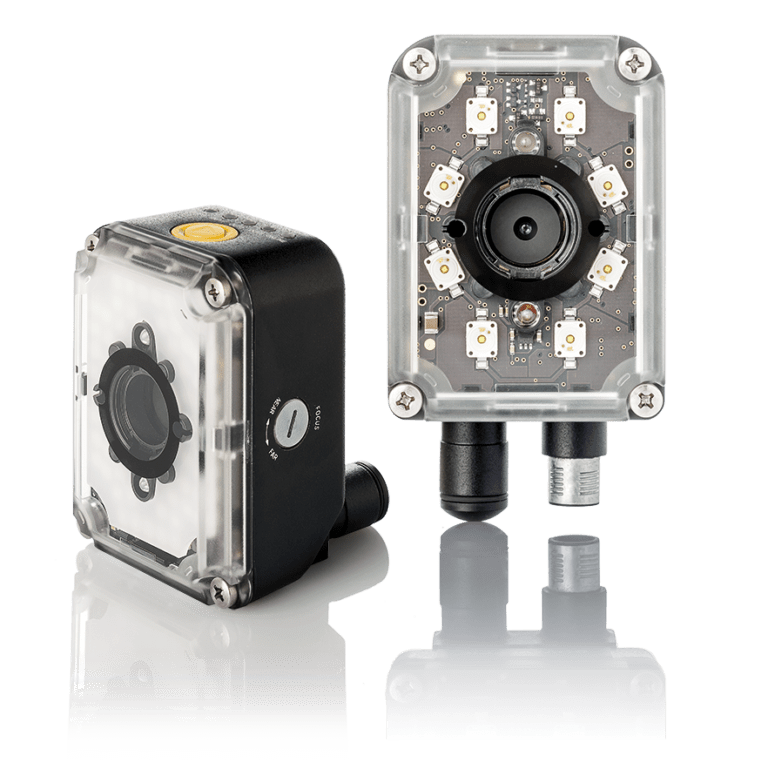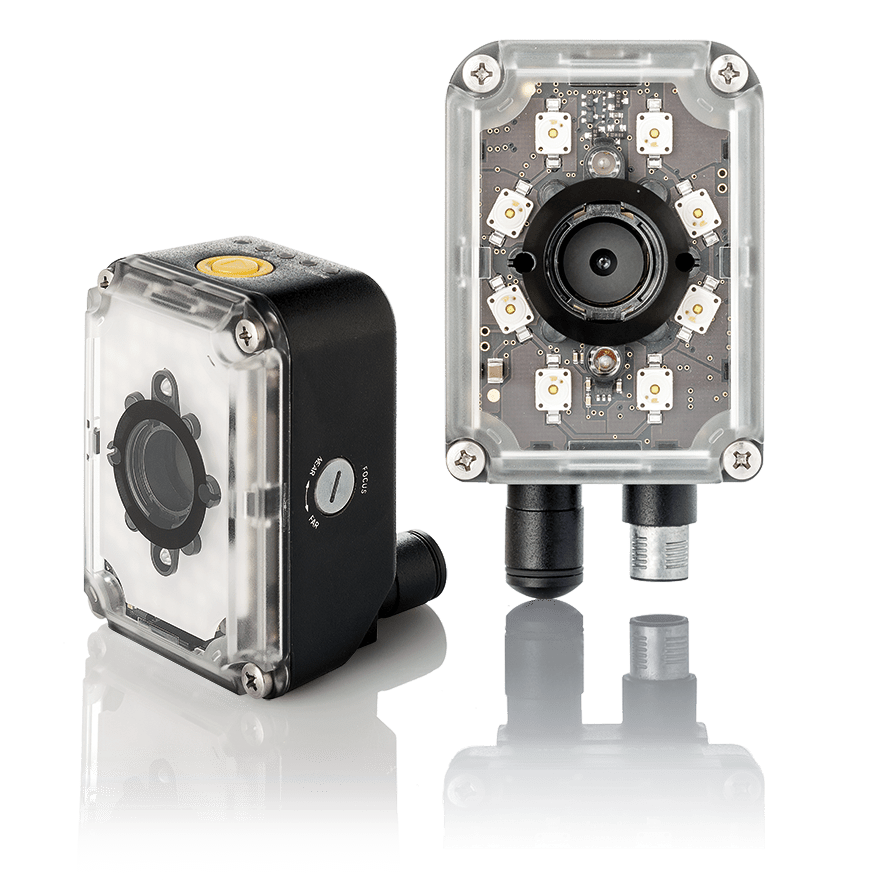 Packaging and labelling
• Correct positioning of color printing alignment
markers
• Lot number and best before date OCR reading
• Bottle cap inspection
• Packaging artwork verification
• Label position, orientation and color
Medical and Pharma
• Packaging/sealing verification
• GTIN, serial and batch number OCR reading
• Medical device assembly control
• Vial in tray counting
• Color and shape detection of medical tablets
• Inspection of flip-off caps (presence and color)
Automotive
• Component assembling verification
• Dashboard inspection
• Electric fuse box inspection
Electronics
• Correct assembling verification
• Component alignment/positioning
P10
P11
P12
P15
P16
P17
IMPACT Software version
Lite
Full
Lite
Full
Resolution
VGA (640 x 480 pixels)
SXGA (1280 x 1024 pixels)
Imager type
Gray-scale CMOS
global shutter
Color CMOS global
shutter
Gray-scale CMOS
global shutter
Gray-scale CMOS
global shutter
Color CMOS global
shutter
Gray-scale CMOS
global shutter
Pixel size
5.3 um
Imager size
1/4"
1/1.8"
Frame rate
120 fps
60 fps
Processor
660 MHz DSP
Dedicated I/O
1 IN
Configurable I/O
1 IN / 3 OUT
I/O type
Isolated INPUT
Non-isolated OUTPUT
External button
Yes
Ethernet
10/100 Mbit/s
RS-232 serial
Yes
RAM
256 MB
Storage
256 MB
Lens options
6mm / 9mm / 12mm / 16mm / 25 mm
Illuminator options
Wide angle 8 LEDs: Red, White, IR, Blue, Red with Polarizer, White with Polarizer
Multi-chain 50 LEDs: Red, White, Blue
Power requirements
10 – 30 Vdc
Protection class
IP67
Dimensions
95 x 54 x 43 mm (3.7 x 2.1 x 1.7 in.) – Connector @ 0°
75 x 54 x 62 mm (3.0 x 2.1 x 2.4 in.) – Connector @ 90°
Case material
Aluminium, Plastic protective window cover
Operating temperature
0 to 50 °C (32 to 122 °F)
Storage temperature
-20 to 70 °C (-4 to 158 °F)
Humidity
90% non condensing
Certifications
CE, CSA